Man oh man, at this point I don't believe Brockhampton can release anything sub par or un-interesting. This American boy band has been on a constant winning streak this entire year, and they have yet to seize up on this explosion of beautiful music for our ears to blissfully enjoy with yet another release "Saturation III" expected to drop later this year.

Ever since Saturation came out I have obsessed over these guys, the amount of creativity and consistency alone makes this group stand out in a bold and influential way. They've got so many colourful and stylistically varied artists in their group that they will never need to collaborate with any popular artists, soon enough they will be the one's the popular acts are asking for. From the street smart, drug induced, deep voiced Ameer Vann, the Jamaican styled aggressiveness in verses from Meryl Wood, to the eccentric, flamboyant vocals from Kevin Abstract and JOBA, these guys hit all the buttons in terms of variety within tracks, and topped with the always interesting and never the same instrumentals they use; it's hard to look away from these guys. I went into this album after already binge listening to the singles they have dropped to promote the release of this album, including: Gummy, Swamp, Sweet, and Junky, so I had a pretty good feeling that I was going to love this album when it came out, and here we are.
They started the album off with "GUMMY" which has become one of my favourite tracks from the group to date. Kevin Abstract shines on this track, with both an amazing first verse, and a catchy as hell chorus that sounds a lot like an MIA chorus (he confirmed on Twitter that that was what he was going for so, makes sense.). Love the line: "Cash don't last, my friends will ride with me" which sums up the track quite nicely in that having solid friends is a lot more valuable than being essentially married to money and disregarding relationships with the peers around you. "QUEER" is probably my favourite track on this album. The instrumental is wild, and is constantly changing throughout the track, with a sample/scratch/heavy bass sound in the verses, and a beautiful, airy chorus with beautiful, pitched vocals provided by Kevin Abstract and Ryan Beatty. The title can come off as blunt and offensive, but the word is pointing at the individuals in Brockhampton and their weirdness and not their sexuality, as they describe in each of their verses on the track with their own oddness.
For some reason I couldn't really get into the next track "JELLO", even though I certainly don't think it's a bad track, I just couldn't get passed the high-pitched "La-de-da-de-da-de-da"s in the chorus that are infested in this track. The instrumental is really quirky and like the little ad-libs provided in the track, something fresh for Brockhampton.  Ameer Vann, my favourite member of the boy band gets a solo track called "TEETH" which is a single intense and emotional verse where Ameer discusses his experiences dealing with racism and growing up in a white prominent environment, and how rap gave him an outlet to be the artist he has become today.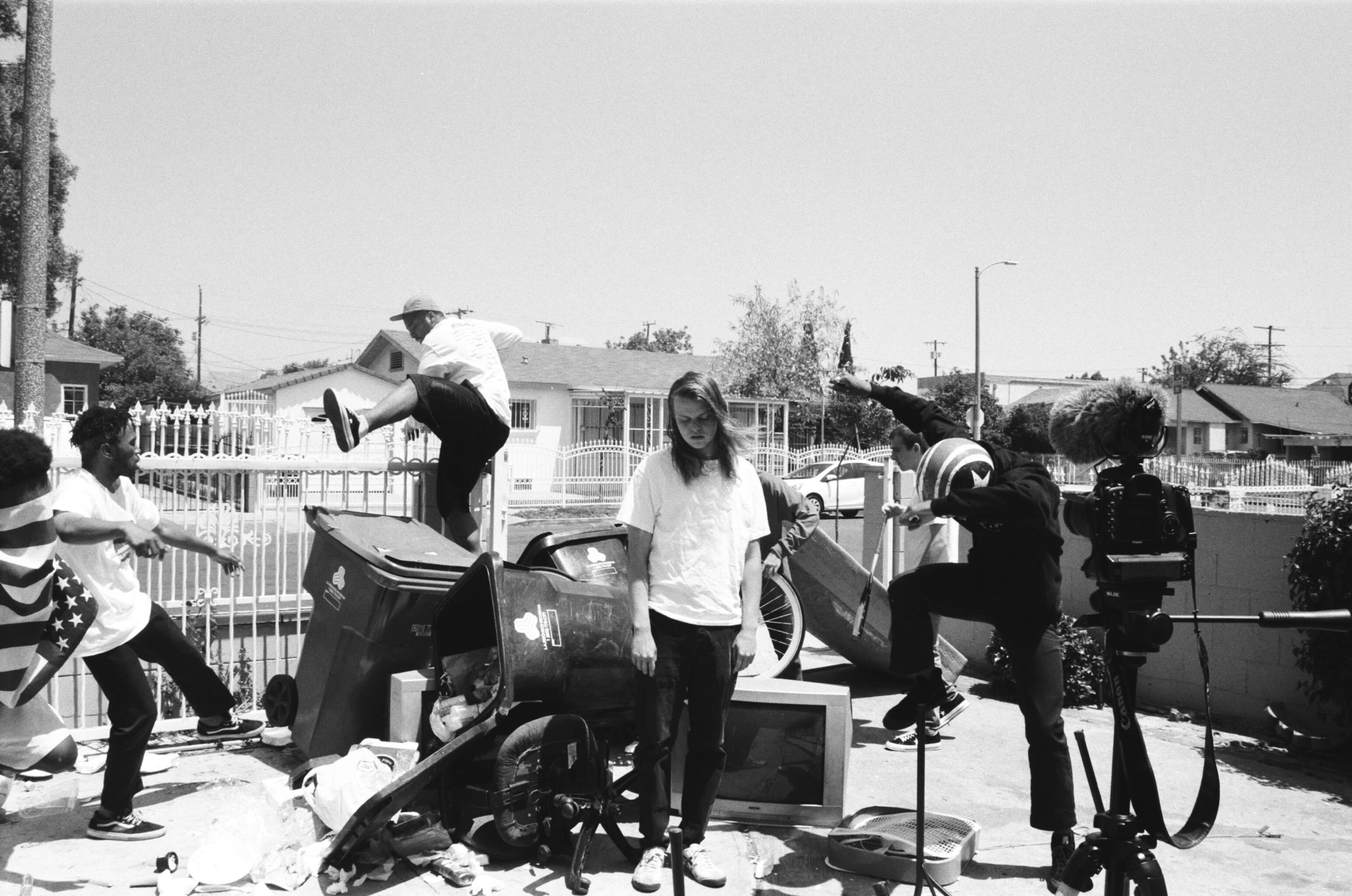 "They told me I'm a nigga, well now I know I am
I got my finger on the trigger, I'm a project baby
A free lunch felon, and I'm hungry every minute
Empty stomach, weed smoke can't fill it"
"SWAMP" is the second single released for the album, and has a super infectious chorus provided by Kevin and Matt, "Fucking commas up from the outside", maybe an allude to Future's "Fuck Up Some Commas".  The song's structure is a formula that Brockhampton seem to be using a lot, letting every member of the group discuss a topic back to back with their own style, cadence, and background. Joba's verse really shined for me in this track for its creativity in flow. This song is about not caring about people talking down on you, and rising above it, this "Swamp" I suppose. On "TOKYO" Joba has this incredible intro verse complimented by this very jazzy instrumental featuring a super sexy ass saxophone lick. At this point, I'm really enjoying just the overall vibe off this album, although it's all over the place in terms of subject matter, you're always presented with some focused and comparative ideas and an incredibly well-thought out instrumental, and that's what I think makes Brockhampton so special in this day and age of hip-hop & pop music.
On "JESUS", Kevin Abstract discusses a certain relationship in an almost Sampha way, It's a think piece with an absolutely gorgeous solo piano crying out in agony, perfectly complimenting Kevin's dialogue. A really nice change in the album with all this boom-bap rap ,and wild-n-out bangers we get in the album. "CHICK" is a great example of that last, cringe line I just wrote, where Matt Champion starts off with this lazy, Earl Sweatshirt like cadence, and Dom provides a mind-boggling spit on his verse, seems to be his thing after hearing Saturation I. My favourite part of this song is the very last quarter of the song, where the instrumental turns into this off-key, jagged melody while Kevin chants "I'm not tryna be like you, when I grow, money in the bag, keep the sand in the bag".
"CHICK" brilliantly transitions into "JUNKY" which immediately jumps into Kevin rapping mostly about his sexuality again, and a similar, jagged melody from the ending of "CHICK" which incredibly eerie, and something out of a horror film. After the intro, the melody is introduced to a boom-bap beat with Ameer going off in a super aggressive way, and proceeded by Meryl yelling at you making this track even more horrifying. Another favourite of mine off the album, and most definitely a stand out track for the group's discography. Out of nowhere on the album, is this spiritual, oriental flavoured instrumental which deals with racism again on the track "FIGHT", and the struggles of growing up as black children in America. The song progresses into this noisy build up that works well with what they're talking about; rising above the stigmas and judgements of their peers in this world of ubiquitous racism.
"SWEET" has one of my favourite lines from Meryl "Don't call me stupid, that ain't the way my name pronounced", not sure why that one stood out so much for me, just thought it was interesting. The groovy bass line and screechy lead synth that sounds something like a choking parrot crying out for help add a very unique feel to the track, also enjoyed the solo sub bass outro with the chorus fading out. Around this point of the album, Saturation II turns into a happy, sunshine bursting experience, as the song "GAMBA" sends you into a melancholic atmosphere of hope and longing for eternal happiness. Some extremely 90s boy band vibes in the chorus, that sounds like something NSYNC might've wrote back in the day, or as Kevin Abstract stated about this song on twitter: "Gamba reminds me of 2009.. if Cudi, Ye, and M.I.A. made some fresh shit with Timbaland". "SUNNY" is well…sunny as shit. No drums on this track, only a feeling of complete euphoria as if you're laying on the beach with this track on with a couple best friends, realizing how perfect the moment is, and understanding the world's beauty is enough for any human to be in nirvana if they just let go of any negative emotion. Aha, kind of got carried away there, but you get the point…it's a solid track.
This is a photo I took of Kitsalano Beach in Vancouver B.C. , reminded me of the last quarter of this album
Concluding this brilliant album is the summer boy band anthem of 2017, "SUMMER" which includes some incredible live instrumentals that shocked me in the best way possible as I heard that live drum set, man those drums sound great. I went to the beach today because it was beautiful today at Sunset Beach in Vancouver and I'm trying to get the most out of this summer heat before we get into the rainy fall season, and this album was a perfect album to compliment our city's beach experiences. Especially on "SUMMER" which has this super spacey, filtered guitar solo that goes on for half of the album, such a great track to listen to on the beach. So Brockhampton might be my new favourite group, everything they do with their music is so exciting, It's eccentric and emotional and they don't really fit into any lane than their own, which is huge for a new group in today's rapidly evolving music scene. Deeply enjoyed this album, and will continue listening to it for a long time. I am super stoked to hear what they will do with Saturation 3, because honestly I have no idea, but it's probably going to be just as amazing as the first two.
-Connor Morley